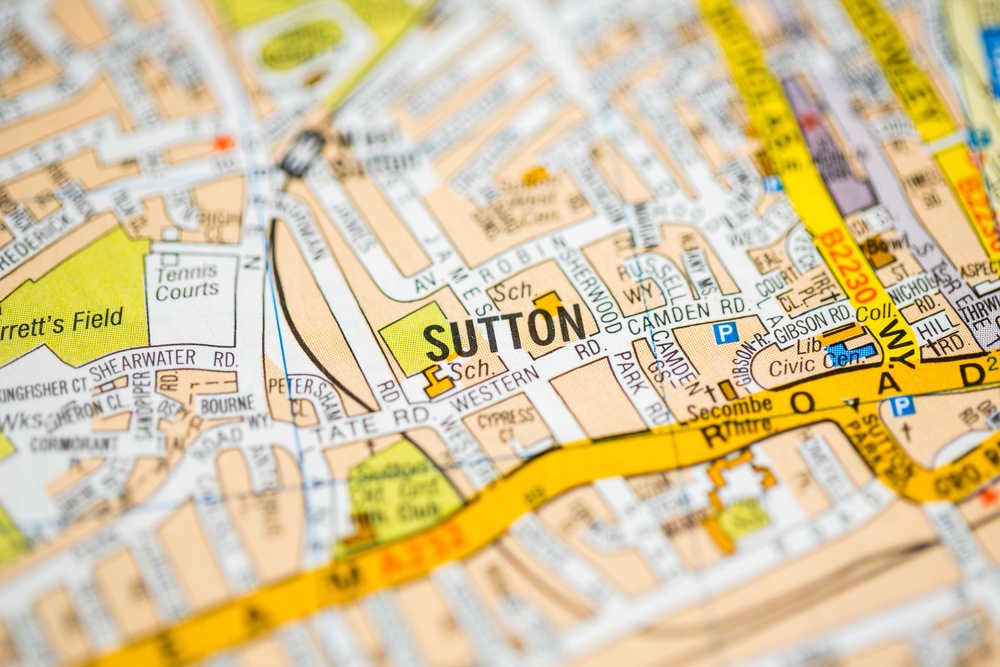 Outer London continues to offer exceptional value for property investors. This Market Update investigates the rising potential of family-friendly Sutton.
Property in the London Borough of Sutton is experiencing stellar capital growth, with a rise of 15.48% recorded in the 12 months to Q3 2016. A key driver of this is the much-documented 'ripple effect', which has seen buyers and renters flock to well-connected towns in Outer London in search of greater affordability.
According to JLL, this demand is set to fuel Sutton house prices to rise by an average 4.5% each year from 2016 to 2032.
Located in outer South London, the borough of Sutton is home to more than 6,800 businesses, as well as the Institute of Cancer Research and the Royal Marsden NHS Foundation Trust, a major local employer. These two bodies are working on the creation of The London Cancer Hub, a major life-sciences campus that will contribute GBP1.1 billion annually to the UK economy, creating 13,000 jobs over the next 20 years. The area currently boasts an unemployment rate of just 0.4%, particularly low when compared to the London average of 1.4%.
Easily commutable is the City of London (Blackfriars is around 29 minutes by train), where over 450,000 are employed. Meanwhile Croydon is only 23 minutes away by train, where over 12,500 workplaces employ more than 110,000 people across the tech, media and financial services sectors.
A hilly area that's greener than most London boroughs, it is one that in recent years has been growing in popularity. Between 2001 and 2011 the local population increased by 5.77%, expanding by a further 2.88% by 2014. The borough is expected to record 9.8% population growth between 2015 and 2025; equivalent to an additional 20,000 new residents.
With this population growth comes the inevitable increase in demand for property. The area faces a critical supply crunch; during 2015 to 2016 Sutton was one of fourteen London boroughs where housing supply met less than half (31%) of that needed to meet annual household growth.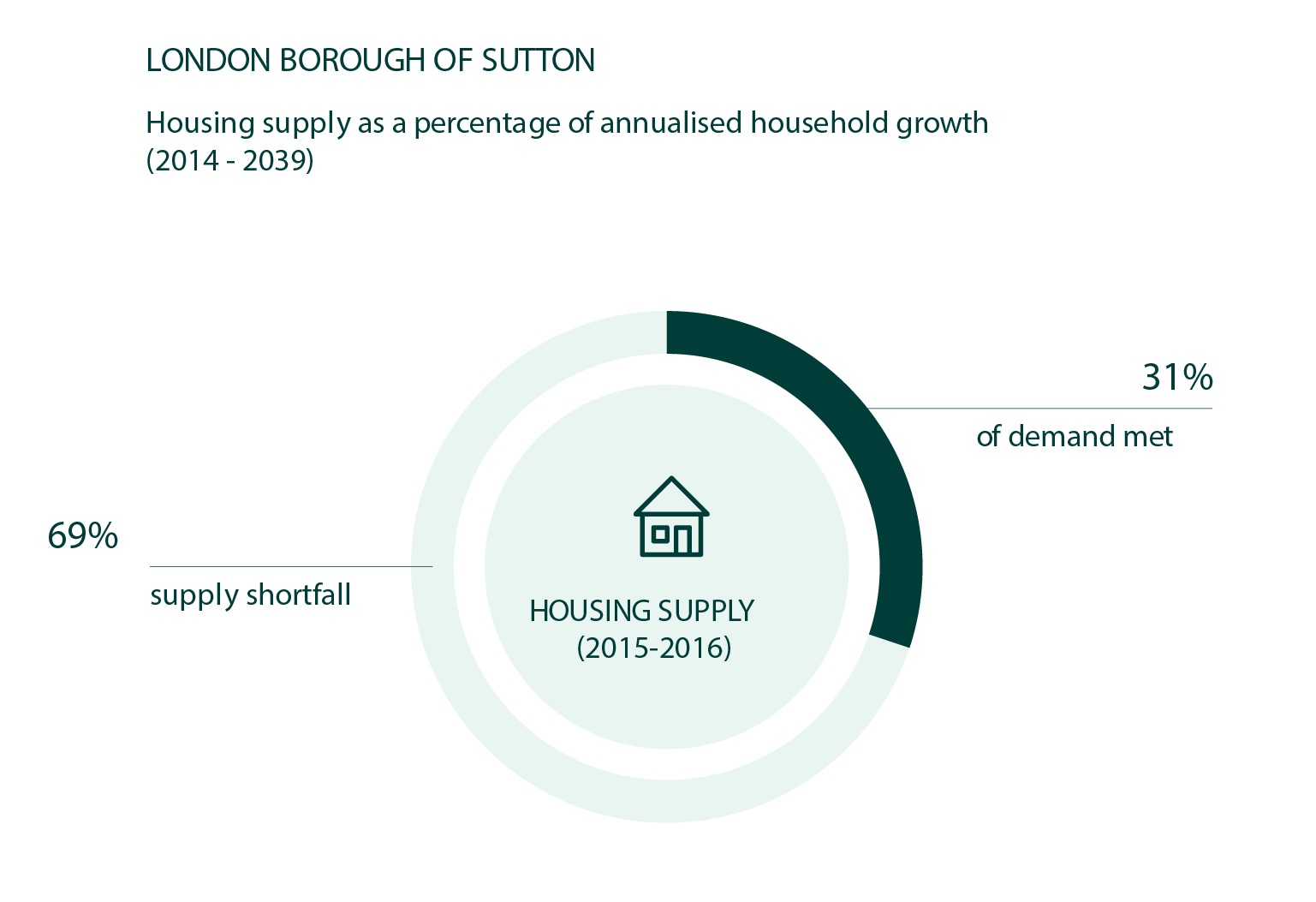 Source: CIVITAS

Price growth of 59.9% was recorded in Sutton in the five years to May 2017. Furthermore when the time is right to exit your investment, housing is easily resalable – the borough is 68% owner-occupied; well above the national average of 63.4%. Yet prices remain relatively affordable and in 2017 Sutton was named a prime spot for first-time buyers, with 63% of all flats sold in the borough purchased by this demographic.
Hackbridge
Within the Borough of Sutton, the district of Hackbridge is a more affordable option, particularly when compared to neighbouring suburbs. It also offers faster train times into Central London, taking passengers into London Victoria in 25 minutes, compared with the 29 minutes it takes from nearby Carshalton, and the 36 minutes from Wallington.
Nestled between the picturesque River Wandle and Beddington Park – which is currently undergoing a GBP3.7 million restoration to create new gardens and improve the quality of green space in the area, there are high hopes to make Hackbridge the UK's "first truly sustainable suburb". It is currently home to BedZED, the groundbreaking Beddington Zero Energy Development, a large-scale eco-friendly housing development featuring solar panels and re-usable rain water channels that enable it to operate in a carbon-neutral manner.
Alongside its sustainability ambitions, Hackbridge is also benefiting from a number of new regeneration schemes, including the forthcoming Felnex industrial estate, a mixed use redevelopment project that will also incorporate green initiatives alongside provision of 805 housing units, a supermarket, shops and small business forest. There is also planned development of the land north of Hackbridge Train Station to include 204 housing units.
Additionally, Sutton Council has earmarked funds for development to directly upgrade Hackbridge from its current 'local centre' status to 'district centre', increasing the retail offering and non-retail facilities and services of the area.
The average house price in Hackbridge is GBP328,560, which makes it more affordable than the neighbouring areas of Wallington (GBP346,762), Carshalton (GBP376,429) and Sutton (GBP387,158) – and significantly less than the average house price in London, which currently stands at GBP604,450.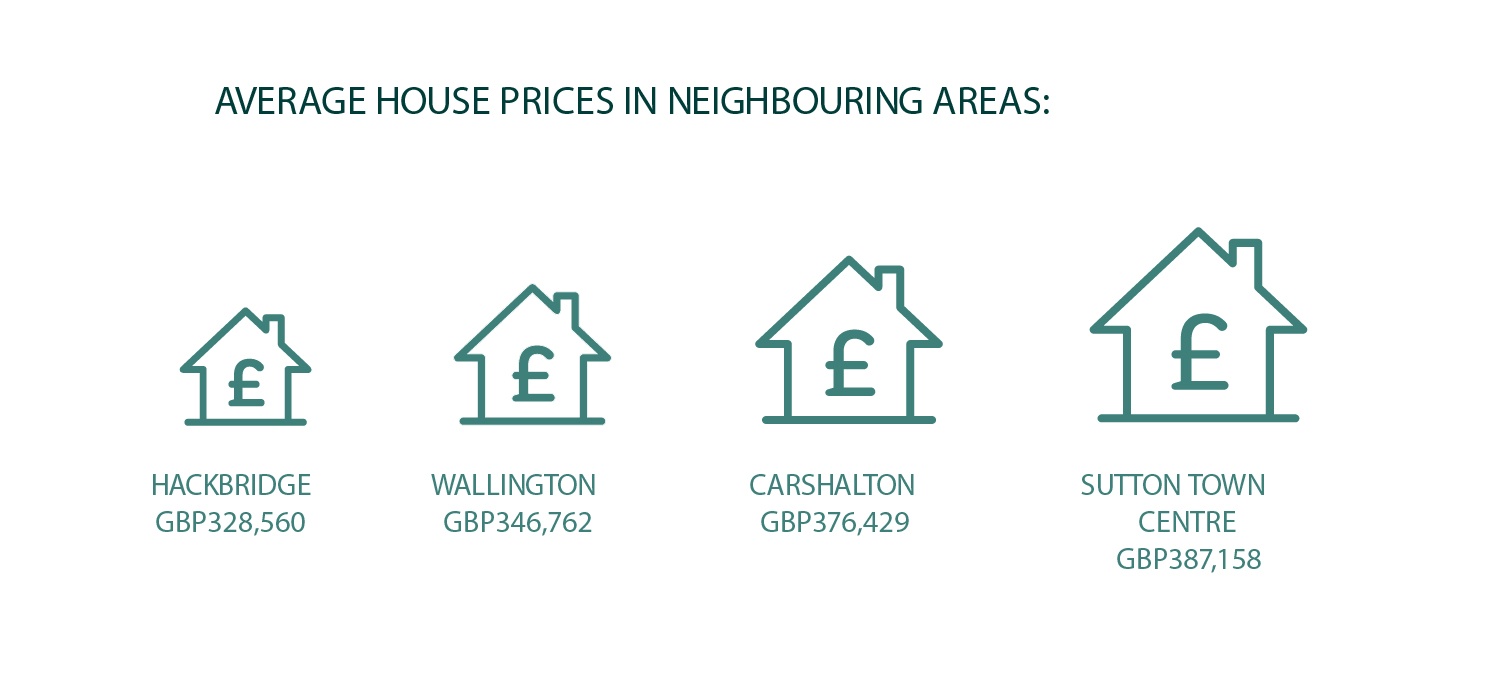 Source: Foxtons, June 2017
Gross rental yields of up to 5% are predicted for property in Sutton and rents are on the rise, with an increase of 36.7% recorded between Q4 2011 and July 2017. Primed to take advantage of the ripple effect from London where rents are predicted to rise by 24.5% over the next five years (an increase above the 19% expected across the rest of the UK), thanks to its excellent transport connections and good access to schools and amenities, Sutton's appeal only looks likely to grow.
---
We are delighted to announce the imminent launch of our latest investment opportunity in Hackbridge, Sutton. Speak to an IP Global consultant for more information.