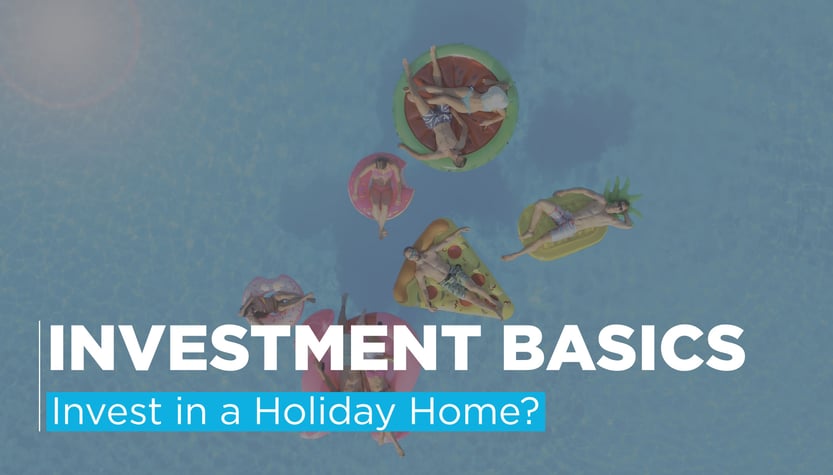 Property investment is a journey. Today, we look at the pros and cons of purchasing a holiday home as an investment.
Holidays are a highlight of working life and people often wonder whether it would be worth buying a holiday home as an investment. It's the opportunity to earn rent and own your own place to escape to. Imagine having an apartment in the snowy mountains of Niseko in Japan, a beachside condo in Thailand or a chateau in the south of France that's a second home you could visit whenever. We look at the reality and both the pros and cons to this investment angle.
To buy?
As with any investment, it's important to have access to as much information as possible and to identify why you want to invest in a certain asset. Ultimately, what do you hope to achieve from your investment and what are your financial circumstances? What will work for you?
Finding the perfect holiday home can spur an impulse-buy, particularly after holidaying somewhere a few times and falling in love with a place. But as with any investment, don't rush into it. There are many things to consider, not least the financial viability.
Holiday homes can require lower initial investment – for example a beachside apartment in Thailand is likely to be significantly cheaper than a flat in an up-and-coming suburb of London popular with young professionals. It comes down to demand and supply. But you also need to consider the potential for growth. The Thai property may have a lower price tag, but a London property investment somewhere like Royal Docks could potentially have double-digit property price growth by 2020. There are rental yields to consider, too, along with your personal circumstances – how much do you want to invest and does the rental income need to cover your costs?
The overwhelming appeal of owning a holiday home is being able to go on a rent-free holiday with little planning. Add to that the bonus of earning rent when you are not using it, which can help to offset certain costs such as mortgage, maintenance fees, insurance and upkeep. Some costs, if the holiday home is an investment property, are also tax deductible.
Holiday homes in popular areas and great locations can appreciate in value over time, increasing the net worth of an investment. If you are looking super long-term, a holiday home even has the potential to make a good primary residence on retirement. These are definite advantages to purchasing a holiday home as an investment.
Or not to buy?
Of course, it's not all benefits. Holiday homes can have significant costs – not only holding costs but also maintenance costs, particularly if you are renting to a series of different short-term tenants, from mortgage and insurance to maintenance fees and cleaning fees. Tenancy can be uncertain and rental rates can vary according to the season – will there be enough demand and income to cover your costs or will the holiday home prove to be a financial burden that leaves you out of pocket?
Holiday homes rarely rent all year round and the average period of high demand can be as little as eight to ten weeks a year. Take away the time that you want to use your holiday home yourself – which will likely also be during high season – and consider how long you will actually be renting your home out and earning rental income? It's important to find balance between personal use and generating the required rental income to cover or contribute towards costs.
There's also the issue of an empty property. How will you keep it up and does it need to be secured? There will be costs incurred in this respect as well as cleaning and management fees between tenants. The property will also be subject to breakages and wear and tear during its various tenancies – costs that need to be considered.
How to do it
It's important not to get carried away. Do the maths and consider how long you will actually holiday there. How often will you really use your holiday home and what are the long-term benefits? Will you go every year or will you get bored of going back to the same place and will it start to feel like an obligation? How much will you save and how much will it cost? Perhaps it is cheaper to be a tenant and lease each time you holiday rather than to own something? If not, perhaps it will increase in value to offset costs – it's the rental yields versus capital gains conundrum again.
Don't buy while you are holidaying in the place. It's probably peak season – the snow has been falling giving way to fantastic skiing or it's the height of summer at the beach house – and you'll be paying a premium.
Consider longer-term tenants who are more cost-effective. How many weeks of your year will you be able to lease your property and what is the holiday season like? Will your rental income cover your costs/mortgage. Keep some money in the coffer for the unexpected – there are lots of costs aside from mortgage repayments such as electricity, water, council rates, maintenance, cleaning, pest control, land tax, insurance and wear and tear.
As with most property investments it's about location, location, location, whether it's sea views or close to the ski fields. Whatever people who travel to this location want, make sure you have it. A good location will also help to ensure better capital gains – holiday homes in areas with economic resilience tend to perform better over time.
Again, the answer as to whether you should buy a holiday home lies in an individual's personal circumstances. If you have considered and can manage all the potential costs, it can be a worthwhile investment – both financially and emotionally – but property investments in areas where demand is high all year round where long-term tenants are more easy to come by are often more financially viable and may fit in better with investors who are just beginning their property portfolios.
---