Happily back on the ground in Manchester, it was soon clear that the property market hasn't lost any of the vitality and buzz I had witnessed on previous visits – the energy and optimism among developers and agents is palpable.
I spoke with professionals whose Manchester experience and knowledge spans several decades and I was happy to discover that my questions weren't met with any cynicism. There was genuine confidence in the city's ongoing revival.
Walking across the city, from the Eastern Gateway to Salford's Chapel Street, and from the Millennium Quarter to the Southern Gateway, I looked for clues to explain why Manchester was making such strong strides.
Clearly Manchester benefits from the students of all nationalities who would hurry past me to their next lecture, enjoying undergraduate life on Europe's largest university campus. Manchester is a top choice for students, with leading institutions, including the recently completed National Graphene Institute, driving forward technological advances in one of the world's most exciting modern day materials.
Manchester benefits too from the new businesses it has attracted over the past few years and the increasing number of chief executives passing silently in chauffeur driven cars, now enjoying the contrasting architecture of Manchester over London's facades.
Manchester has a thriving creative media scene. Was the Mancunian revival down to the relocation of several of the BBC's departments from London to Manchester, or ITV Granada's move to MediaCityUK? It comes as no surprise that Channel 4 is now expressing an interest in moving some of its departments to the same development.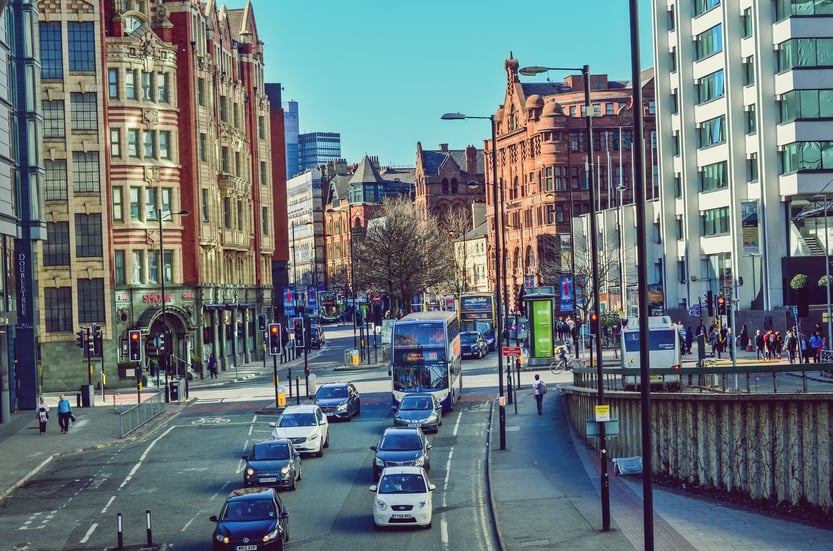 But are these just symptoms or first cause of Manchester's developing success story?
Following meetings with Manchester City Council it was clear that strong vision and proactive leadership are playing a major role. The council's Chief Executive, Sir Howard Bernstein – whose first role at the council was as a junior clerk – has been at the helm since 1996, and has laid a firm foundation for the city's accelerated post-recession growth.
Recognised for his business acumen, Sir Howard has attracted a highly competent team who have in turn managed to attract large-scale private investment to support development.
The government's confidence in Manchester's leadership to continue to deliver on the city's great potential is evidenced by the groundbreaking devolution deal recently announced by UK Chancellor George Osborne. Designed to be a template for further regional devolution across the country, this will include Manchester becoming the first city outside of London to gain a metro-wide elected mayor.
So where to now? The newly re-elected Conservative government has shown true ambition in its plans to form a Northern Powerhouse with Manchester at its heart. Supported by new infrastructure links and investment in business and research, this wide-ranging programme to drive northern development is set to be a catalyst for more of the same success in Manchester.
With an experienced and shrewd local council at the helm, coupled with broad support from the government, it seems clear to me that Manchester's steady rise is here to last.